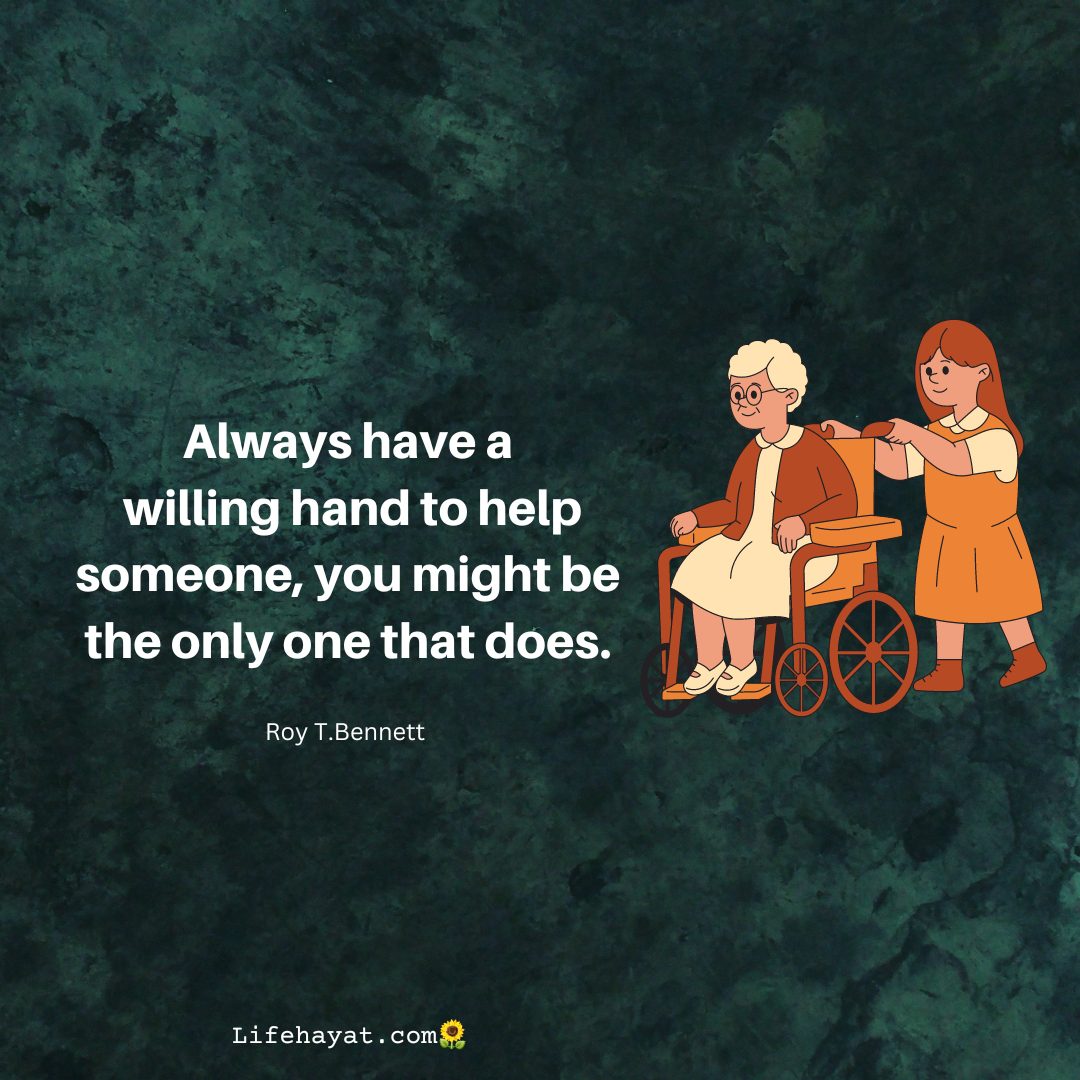 Looking for inspiration about helping others? Here's a collection of helping others quotes that will motivate you to help others and be a giver with pleasure in your heart.
It's not easy for all of us, we all struggle and face challenges that make us sad and in pain until we grow stronger. Sometimes we need a few words of encouragement to help us go through some tough battles courageously.
Helping others and giving your time or money to people through their tough times, is something that helps you back with treasures in your heart and life.
I hope these helping others quotes make a difference in your day.
Helping Others Quotes
1. "In helping others, we shall help ourselves, for whatever good we give out completes the circle and comes back to us." – Flora Edwards.
2. "Never underestimate the difference you can make in the lives of others. Step forward, reach out, and help. Reach out to someone that might need a lift." – Pablo
3. "One of the most important things you can do on this earth is to let people know they are not alone." – Shannon L. Alder
4. "Truly great people in history never wanted to be great for themselves. All they wanted was the chance to do good for others and be close to God." – Muhammad Ali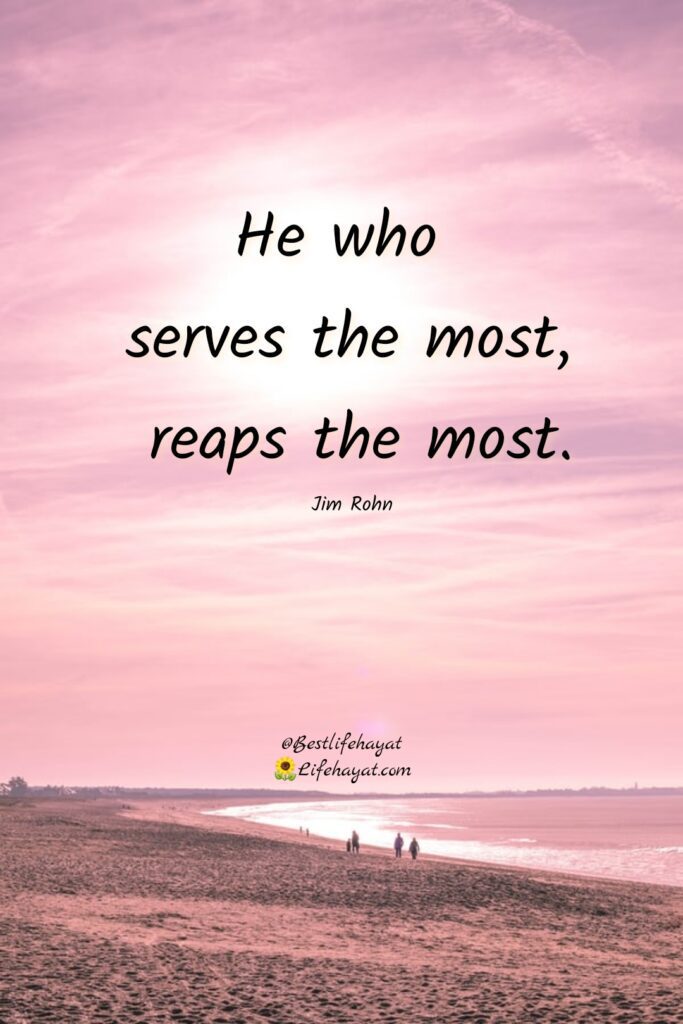 5. "It's not enough to have lived. We should be determined to live for something. May I suggest that it be creating joy for others, sharing what we have for the betterment of personkind, bringing hope to the lost and love to the lonely." – Leo Buscaglia
6. "No one has ever become poor by giving." – Anne Frank
7. "When you have wit of your own, it's a pleasure to credit other people for theirs." – Criss Jami
8. "But even with the inspiration of others, it's understandable that we sometimes think the world's problems are so big that we can do little to help. On our own, we cannot end wars or wipe out injustice, but the cumulative impact of thousands of small acts of goodness can be bigger than we imagine." – Queen Elizabeth II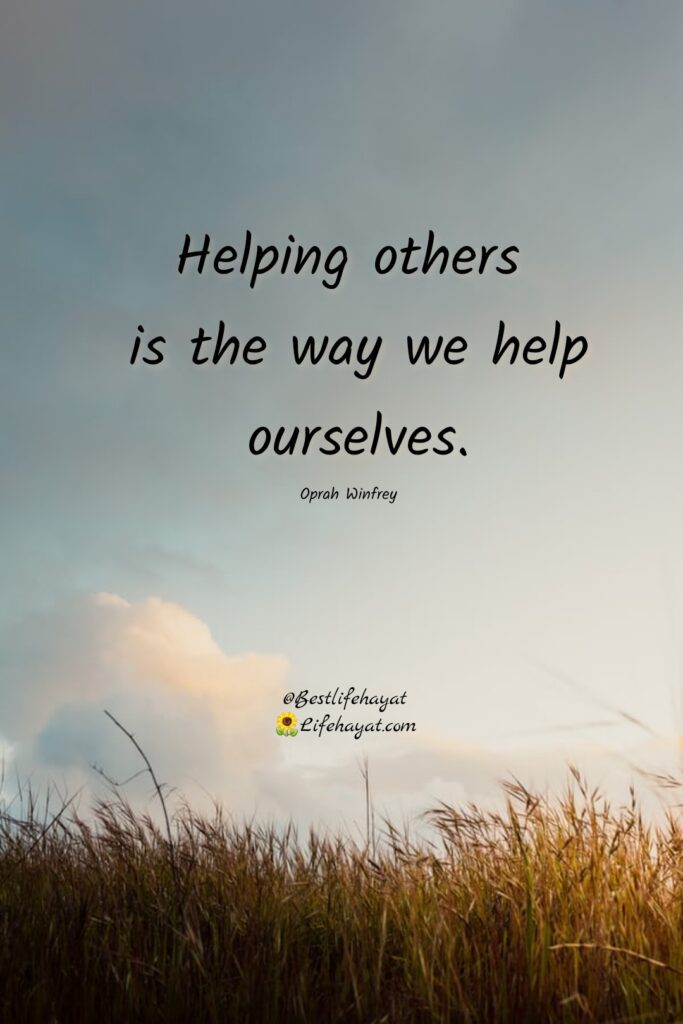 Helping Others Quotes
9. "The best way to not feel hopeless is to get up and do something. Don't wait for good things to happen to you. If you go out and make some good things happen, you will fill the world with hope, you will fill yourself with hope." – Barack Obama
10. "I cannot do all the good that the world needs. But the world needs all the good that I can do." – Jana Stanfield
11. "No one is useless in this world who lightens the burdens of another." – Charles Dickens
12. "A fine glass vase goes from treasure to trash, the moment it is broken. Fortunately, something else happens to you and me. Pick up your pieces. Then, help me gather mine." – Vera Nazarian
13. "There is no exercise better for the heart than reaching down and lifting people up." – John Holmes
14. "When we give cheerfully and accept gratefully, everyone is blessed." – Maya Angelou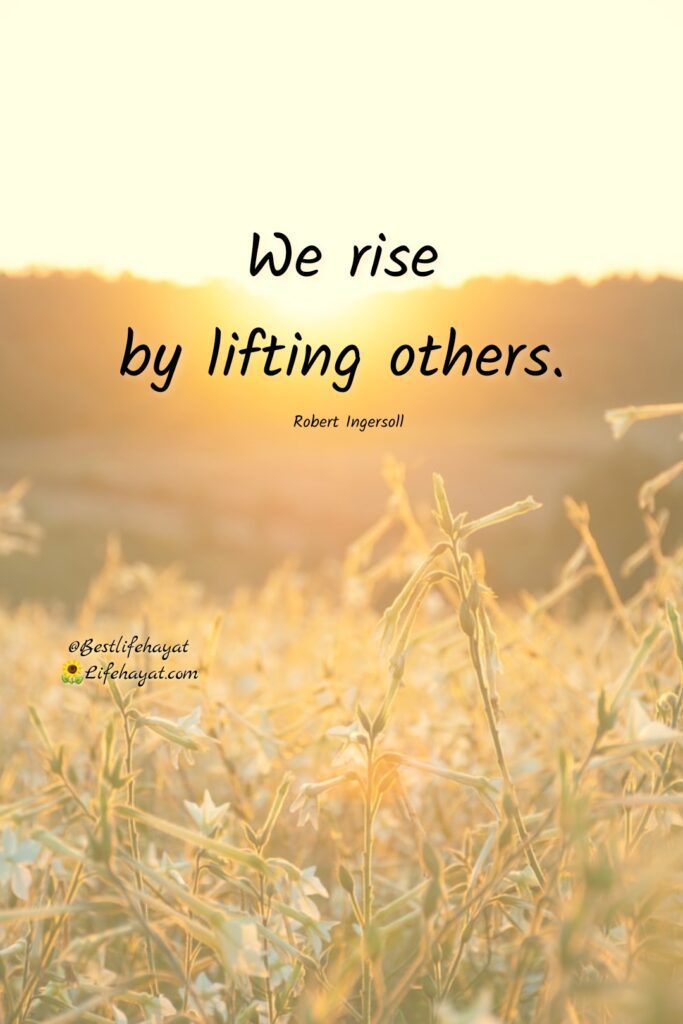 Make a difference by helping others
15. "If you're not making someone else's life better, then you're wasting your time. Your life will become better by making other lives better." – Will Smith
16. "You have not lived today until you have done something for someone who can never repay you." – John Bunyan
17. "Somewhere along the way, we must learn that there is nothing greater than to do something for others." – Martin Luther King
18. "The best antidote I know for worry is work. The best cure for weariness is the challenge of helping someone who is even more tired. One of the great ironies of life is this: He or she who serves almost always benefits more than he or her who is served." – Gordon B. Hinckley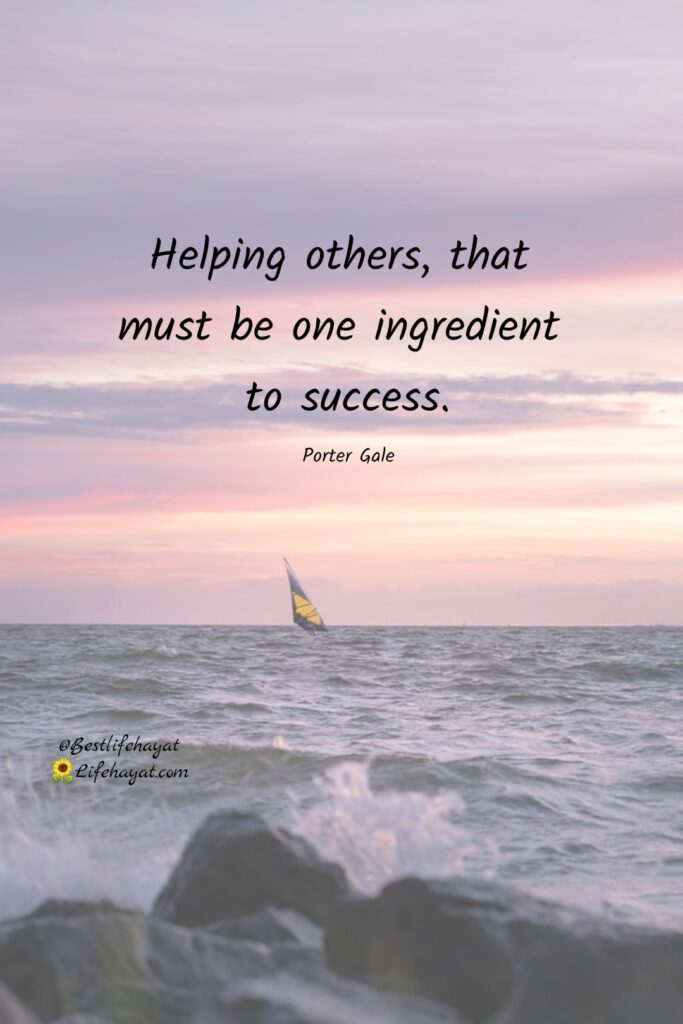 Helping Others Quotes
19. "I don't want to live in the kind of world where we don't look out for each other. Not just the people that are close to us, but anybody who needs a helping hand. I can't change the way anybody else thinks, or what they choose to do, but I can do my bit." – Charles de Lint
20. "The greatest sympathy gift you can give a hurting friend or loved one is you. Your presence, compassion, patience, and caring are the greatest gifts you could ever give to help them get through a difficult time." – Michelle Pommells
21. "There is nothing more beautiful than someone who goes out of their way to make life beautiful for others." – Mandy Hale
22. "I'm starting to think this world is just a place for us to learn that we need each other more than we want to admit." – Richelle E. Goodrich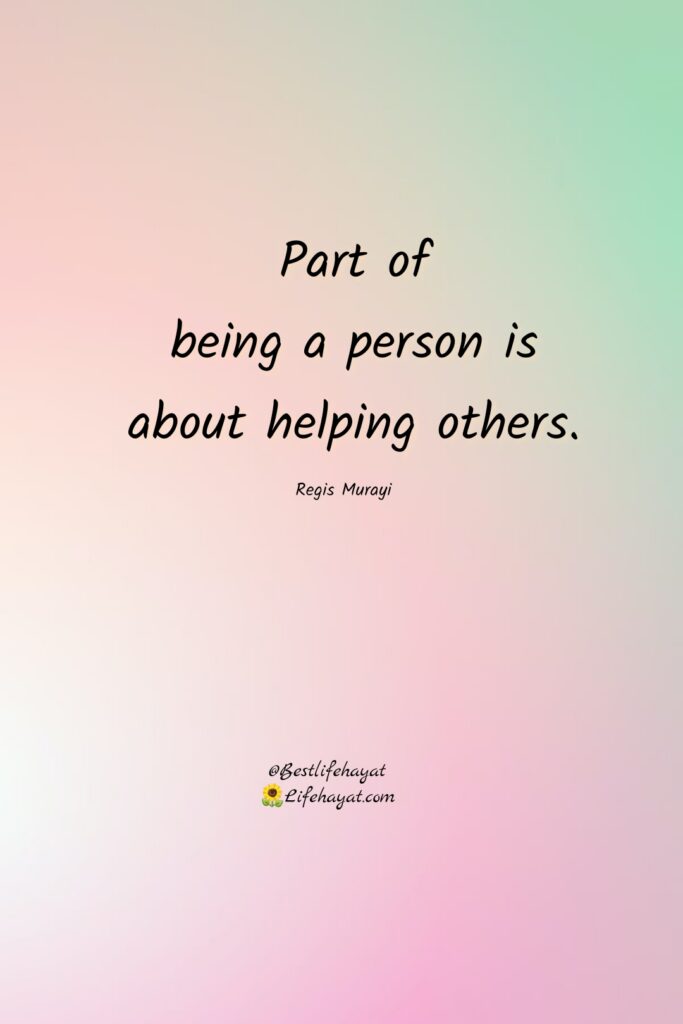 23. "Safeguarding the rights of others is the most noble and beautiful end of a human being." – Kahlil Gibran
24. "No amount of knowledge, technique, or quick-wittedness can substitute for honesty and the genuine desire to help others." – John C. Maxwell
25. "Give freely to the world these gifts of love and compassion. Do not concern yourself with how much you receive in return, just know in your heart it will be returned." – Steve Maraboli
26. "Never underestimate the difference YOU can make in the lives of others. Step forward, reach out, and help. This week reach out to someone that might need a lift." – Pablo
27. "What is hard work? It takes strength, energy, and stress to truly care about others enough to place oneself last, but it is easy to wrap oneself up and selfishly scramble on the heads of others." – Criss Jami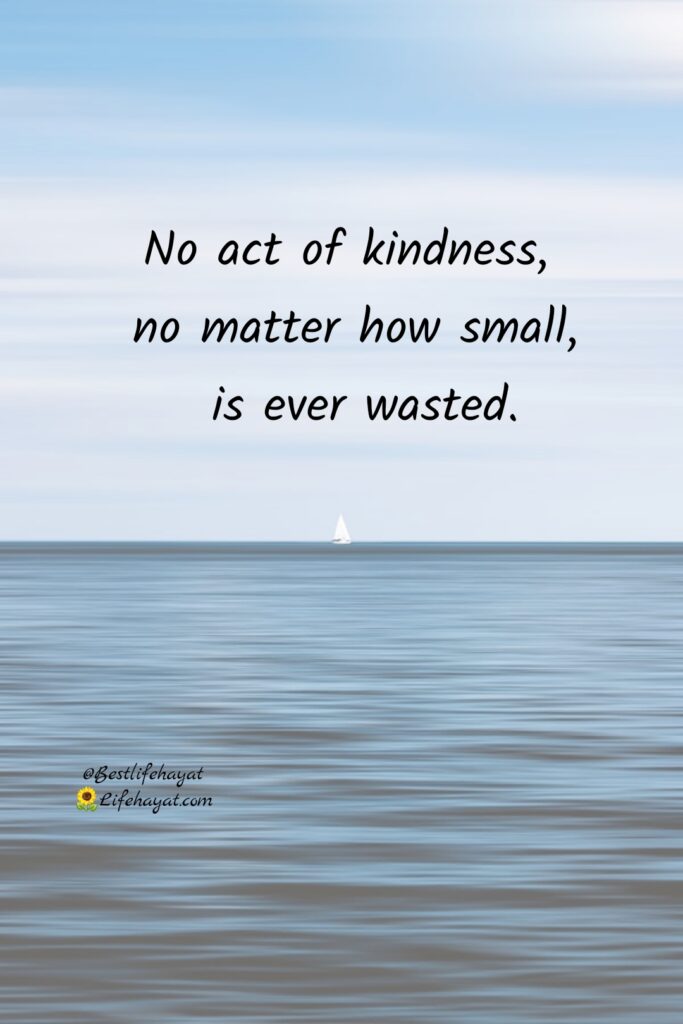 28. "Remember, if you ever need a helping hand, you'll find one at the end of your arm… As you grow older you will discover that you have two hands. One for helping yourself, the other for helping others." – Audrey Hepburn
Be happy helping others
29. "Kindness is universal. Sometimes being kind allows others to see the goodness in humanity through you. Always be kinder than necessary." – Germany Kent
30. "Don't deceive yourself; laughing at someone's weakness is not the way to reveal your strength. Your strength is in the help you offer, not the mockeries you deliver." – Israelmore Ayivor
31. "Help your old neighbor, give your seat in the subway to someone who needs it, buy a coffee for a homeless man that you see, bring flowers for your colleagues without a reason. Make someone smile, even for a brief second, and you will see how your day will change instantly for the best." – Lucas Bailly
32. "The purpose of life is not to be happy. It is to be useful, to be honorable, to be compassionate, to have it make some difference that you have lived and lived well." – Ralph Waldo Emerson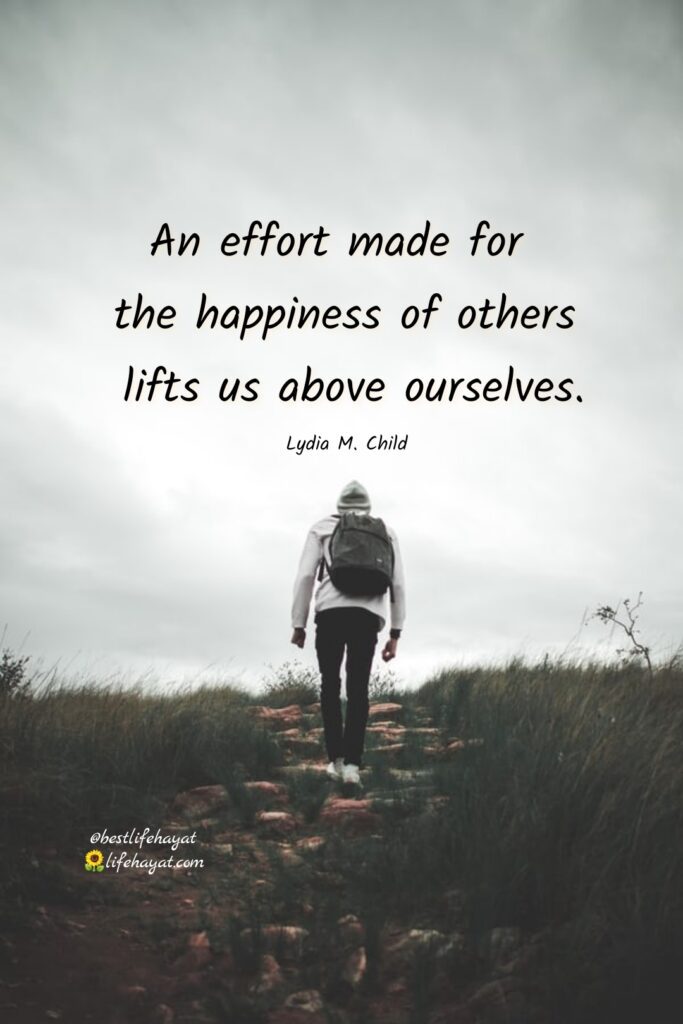 Helping Others Quotes
33. "Use your gifts to teach and help others. Acknowledge them as gifts (even if only in your mind). Take some time to list your strengths as well as the ways in which you could share them with the world around you and how that truly is a gift to others." – Beth Bunchman
34. "Kindness and helping others will mostly return to you when you least expect it, and when you really need it."
35. "The more I help others to succeed, the more I succeed." – Ray Kroc
36. "Most importantly, my father was taught that "Charity begins at home." This basically meant that doing good deeds and helping people started in your own household." – Kelvin Waites
37. "Please note that your health, both mental and physical, is the most important area of your life as you can't achieve anything or help others if you are not well." – Martin Formato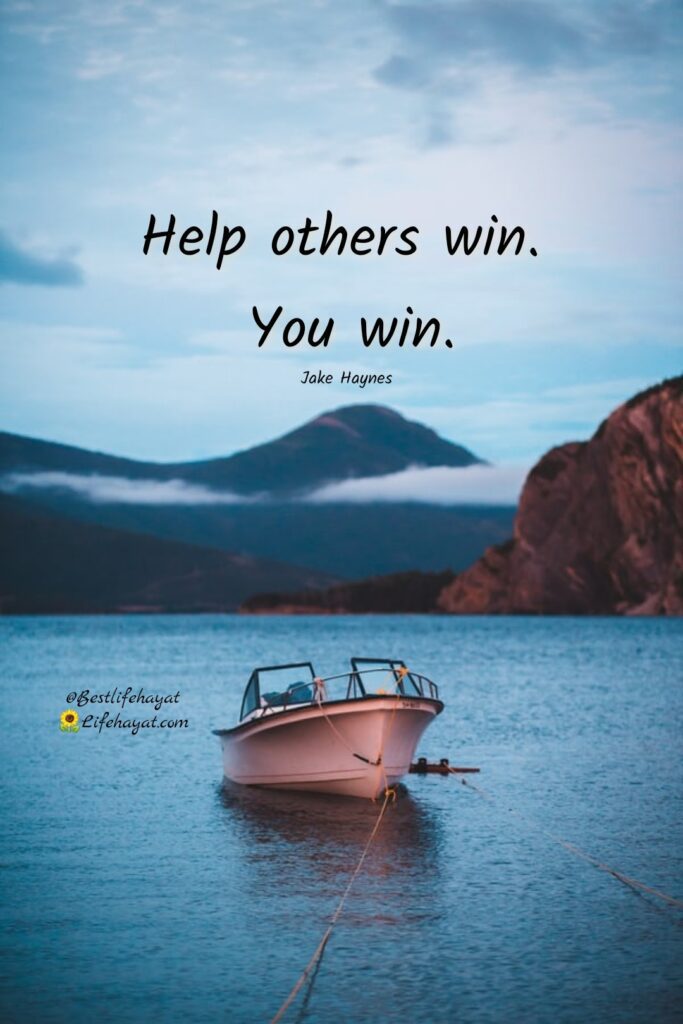 38. "Be the reason someone believes in the goodness of people."
39. "The real road of compassion, that is, giving, helping, assistance and community service, is a road that can be set and declared as your life's purpose." – Byron Pulsifer
40. "Strong people don't put others down, they lift them up." – Michael P. Watson
Please follow and like us:
Hits: 8770